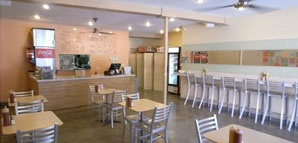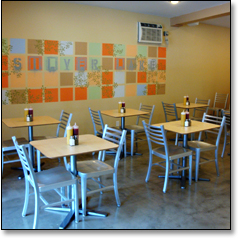 You're not fighting, exactly, but things between you and your favorite burger have gotten a bit...routine.
Thankfully, covert burger shop
The Fix
has opened in Silver Lake to help you spice things up.
It's a small, mod-looking fast-food place you could easily drive past without seeing—but if you did, you wouldn't find yourself ordering an ostrich or buffalo burger to go. The owner recommends you stay basic when ordering to really savor the unusual meats, but you could also craft an
Ostrich Pesto Burger
with basil-pesto sauce and jack cheese, or a
Buffalo Rodeo Burger
with bacon, onion rings and barbecue sauce. And if you're heading home for a DVD date, pick her up a
Pilgrim Burger
—it's a turkey burger with cranberry relish. (Note to the Fix: We like it, but we wouldn't say no to some stuffing in there too.)
And you'll probably want to throw in a
Peanut Butter Shake
and some
Homemade Breaded Shrooms
(they're like onion rings, but not onions and not rings). Everything that should be plastic—utensils, containers—is made of easily compostable corn, so you figure the more you eat, the more environment you are saving.
Your consumption is nothing if not noble.