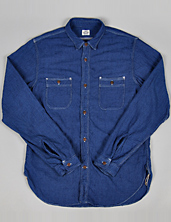 A brief time line of landmark comings to America:
1492:
Columbus sails ocean blue. Works out better for some than others.
1964:
The Beatles land at JFK Airport. Total hair volume in US increases by 50%.
1988:
Prince Akeem arrives to find the woman of his dreams. Hilarity ensues.
2012:
Japan brings you your new favorite vest.
Give a warm American welcome to
J.S. Homestead
, a small collection of sturdy and handsome wearables from the Land of the Rising Sun, available online now from Hickoree's Hard Goods.
If you've got extremely loyal friends or know a diplomat somewhere in Tokyo,
maybe
you've scored a chunky cardigan or two from these guys in the past. Otherwise, this is your first chance to grab one of their classics-inspired pieces on American soil. What you can expect: just four things for now (it's quality, not quantity)—a worker's jacket, a piped cotton beach vest and two rugged button-downs—all of which would look good on you 50 years in any direction, and all of which celebrate the concept of indigo.
You'll wear this when you're gunning for a role in the slimmer-cut remake of
Cool Hand Luke
. Or, you know, anytime there's a distinct possibility of you holding a beer.
We know, really unlikely.