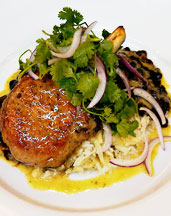 You might not know what popcorn bacon is.
But you're pretty sure you like it.
Which reminds us:
Black Hogg
, a profoundly meaty little den of lamb burgers, pork belly tacos and the newfound majesty of popcorn bacon, opens tonight in Silver Lake.
You could easily miss this place among the tattoo parlors and questionable accounting facilities on this patch of Sunset. Just look out for the smiling face of Julia Roberts. She's got nothing to do with Black Hogg, but there's a huge
Mirror Mirror
billboard directly overhead. The real reason that movie exists: to help you find pork.
Inside is like a dinner party in your producer friend's loft—it's a small, design-y little room with concrete floors, birch walls and a lot of packed-in tables. You'll come by with the kind of friends who don't mind rubbing elbows with someone else's friends,
take a quick look at the menu
and then start feasting: oysters. Mussels. Pork belly tacos. Lamb burgers. Beer-battered cod with waffle chips.
And as for that popcorn bacon, let's just say you'll get popcorn-sized kernels of batter... that have pork belly inside... and it comes with a maple-tinged dipping sauce.
Oh, and there's a peanut butter banana chocolate chip sticky bun for dessert.
When desserts have that many words, you have to try them.