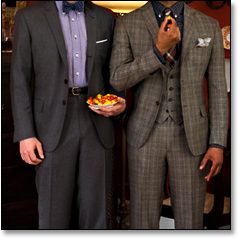 Except for the occasional Andre 3000 appearance, the South hasn't been much of a force in men's style. Until now, anyway...
Welcome to
Billy Reid
, a chunk of Southern gentility and casually brilliant clothing shipped north and reassembled on the Bowery, opening today.
From your first steps inside, you'll know you aren't in Prada country anymore. Everything in this shop—and we mean absolutely everything—came direct from down South. The clothes rack used to be an apothecary cabinet on the Louisiana bayou, the counter is made from rural Kentucky church pews, and the downstairs ceiling is a patchwork quilt of antique doors. And the stairs? They're Frankensteined together by hand from ten different Southern staircases to give a combination of the lazy ambience of seven different states.
It's not all sweet potato pie, though. Reid won a CFDA (the Oscars of fashion) back in 2001, and he's spent the intervening years perfecting the Southern gentleman look. The result is the Heirloom Collection, a series of small-run pieces—less than a hundred of each item is made—and a custom shop that'll set you up with your next Colonel Sanders-meets-Tom Ford getup, along with laid-back versions of everything from denim and track jackets to alpaca throws.
As for becoming a certified Southern gentleman...a few suits are a good start.