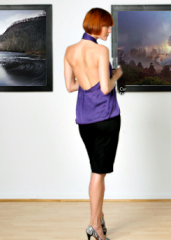 When you go to an art gallery, chances are you're there for one of a few unfortunate reasons:
1) To look at art.
2) To impress a date who likes to look at art.
3) To learn about the beautiful yet troubled existence of a pine tree named William... as represented by a painting... of a blue dot.
This calls for backup.
A chef, a few cases of wine and four courses around a candlelit communal table should do.
Welcome to
Art Feast
, a new supper club set right smack in the middle of the Jennifer Schwartz Gallery, accepting reservations now for the next seating on March 14.
Here's how this is going to pan out. Every time an exhibit premieres at the little Westside gallery, a collaboration will occur between the featured artist and a local chef. They'll get together, ponder each other's greatness and harmonize on a menu that's based entirely around the artwork on display.
Enter: you.
And your date.
Because soon enough, the two of you will walk into the dimly lit gallery, take a seat at that communal table and wait for the drama to unfold. This month's drama: East Coast shrimp with crab cakes, North Carolina trout with speck and sorghum cake with cinnamon. All from chef Joe Truex of Watershed fame.
And yes, the current art exhibit is also called
Watershed
.
We assume you see what they did there.