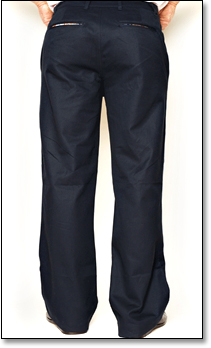 It's been said that all men—presidential candidates, you, even the regal Carrot Top—put on their pants one leg at a time.
While you're stepping in, might as well show support for your candidate of choice. Which has gotten much easier now that
Bonobos
is selling
Obama
and
McCain
trousers.
Just in time for debate season's tumultuous kickoff tonight, you can throw your considerable weight—by which we mean your lean, well-toned frame—into your well-fitting pair of Obamas, made of soft brushed Belgian cotton twill in a presidential-ish (or just office-ish) navy blue. The makers say the bright, colored-tile lining inside recalls a sort of stately, open-minded traveler like their namesake. We say...well, you can see it peeking through the tops of the back pockets.
The McCains are cut from the same cloth, literally, but with a "supersoaker" liner (like seersucker, but lighter) that stays inside—a classic, traditional pair of navy blues more befitting a man of a certain age. Of course, if your preference in pant style doesn't coincide with your preference in president, that's between you, Bonobos and anyone else who happens to see the lining when the pants come off.
And she's not the judgmental type.