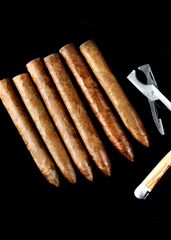 You'd sneak into communist Cuba under the cover of night.
You'd hack your way through thick jungles in Central America.
You'd indulge Ditka in yet another reminiscing about the 46 zone.
Yes, there's little you wouldn't do for a decent stogie.
The single caveat: driving to Wheaton. (A line must be drawn somewhere.) But, for a small fee, Wheaton now delivers its finest tobacco to you.
Meet
Jorgio's Cigars Concierge Services
, currently standing at the ready to make sure your head is surrounded in a thick cloud of smoke at a moment's notice.
These capable cigar valets can help you determine anything from the flavor profile you'd most enjoy to your preferred length of cigar (yeah, it gets personal). But mostly, these are the guys to contact when you just need someone to rush you a few of your favorite Ecuadorian beauties (okay, second favorite).
The process is easy: call them up, tell them what you want, and they'll deliver it to any downtown address. So you'll want to put them on speed dial for the next time your scotch is feeling a little lonely. The next time you and Jay-Z are pacing up and down a maternity ward. The next time you find yourself holding a flaming $100 bill.
You never waste good money.