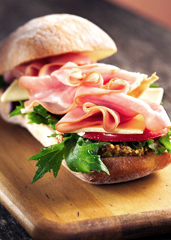 Ah, the tease...
When executed correctly, it's equal parts intrigue, seduction and lust.
Except for this week.
When it's equal parts intrigue, seduction, lust and capocollo.
Presenting the
Salumeria Pop-Up
, a pair of sneak peeks at the highly anticipated opening (and Italian sandwiches) of Flour + Water's new old-world deli, taking place Wednesday and Friday in the Mission.
It's a deli. It's a market. It's a walk-in cooler from a 1930s German sausage factory that's been modified to handle all your obscure Italian-cold-cut needs (at last, a good bresaola guy). And in a few days, you're getting a preview.
See, while the place's raw-concrete walls, reclaimed-gymnasium-wood floors and state-of-the-art deli slicers are brought up to speed, you'll stop by Flour + Water on Wednesday for a Salumeria sample lunch. Think spicy coppa sandwiches, prosciutto cotto on gougère and fava leaf antipasti. Yes, there'll be some nice chianti handy.
Then, come Friday, you'll head over to Clooney's Pub. It's where those same Salumeria guys will unveil yet another sliver of their menu. All you need to know: there'll be fresh-made pork rinds and house-cured mortadella.
Home: it's where the salted pork sausage is.
Note:
<a target="_blank" href="http://www.flourandwater.com/events/">Salumeria Pop-Up</a>, Wednesday, 11:30am-2:30pm, at Flour + Water, 415-826-7000; Friday, 6:30-10pm, at Clooney's Pub, 415-826-4988