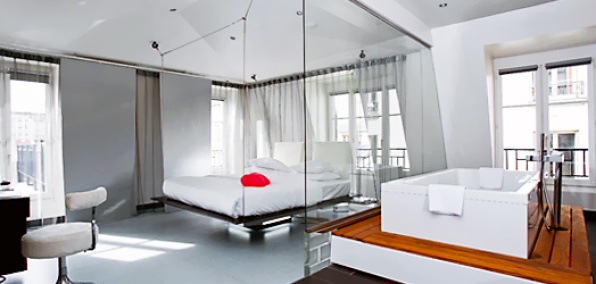 You remember it all too well.

An alluring stranger on a train. An intoxicating stroll through Vienna. A night of passion... in a park.

Yep, Before Sunrise. Good movie.

Anyway, should you find yourself in a similar situation—and should you prefer a California King to a park bench—you'll want to know about this...

Welcome Dayuse-Hotels, a libertine lodging service that lets you book upscale hotel rooms by the hour, coming stateside soon.

If you're familiar with our nation's fine tradition of hourly rate motels, you get the concept—just consider this the French fairy-tale version. Imagine: fresh tulip arrangements. Four-post Victorian beds. Private terraces where you'll smoke hand-rolled cigars after an invigorating afternoon of... power napping. All available in three- to six-hour blocks, no questions asked.

So picture it. You're on a train through the French countryside. (This thing's hitting the US in a couple weeks, but stick with us.) Your banter: witty. Your conversation partner: sparkling. Your window of opportunity: short. You'll go to this website, peruse available rooms nearby and begin a highly discreet check-in process. Suffice it to say, it starts with you receiving a text message containing a secret PIN code... and ends with you and your new friend embracing the power of 400-thread-count sheets.

A suitable pillow-fight opponent can be so hard to find.