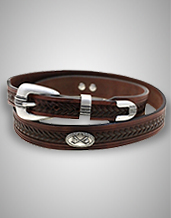 That's a nice waistline you've got there.
Also, we just creeped ourselves out a bit.
Anyway, here's the thing: it's technically winter. And that canvas belt of yours with the baby-blue dolphins all over it... not a good look right now.
You need something leathery. Something indestructible.
And preferably something with the words "Right to Bear Arms" emblazoned on it...
Take a look at the
Orion Leather Company
, a South Carolina–based online shop filled with nothing but leathery, take-no-prisoners handsomeness in the form of (you guessed it) belts, available now.
This is exactly the kind of waist candy you'll want hugging your midsection during those long winter months filled with patio-centric happy hours, weekend hikes in the Blue Ridge Mountains and your Sunday lawn darts engagement with Nathan on the Mansion lawn (winter can be so cruel).
They're all handmade by SC-dwelling leather guys who (we assume) take considerable pleasure in poring over black bridle-leather belts complete with embossed silver conchos (those little oval-shaped medallions) that say things like "Don't Tread on Me" and "Right to Bear Arms."
Of course, you could always take the road less... Nugent and opt for something as simple as a brown harness-leather number with a brushed gunmetal buckle.
Considering it's still gunmetal season and all.