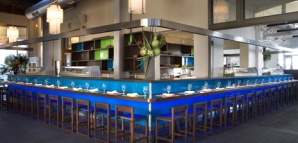 Word on the calle is that Peruvian cuisine is the new Japanese.

And while you're not ready to ditch dragon rolls for cebiche mixto completely, you recognize there's room for both.

Especially when the new Japanese is presented like this.

Introducing La Mar Cebicheria Peruana—the Embarcadero's newest spot for pisco, cebiche and waterfront romance—opening Monday on Pier 1½.

Don't be surprised if you discover dishes here you've never tasted before, like the Causa Nikei (whipped purple potatoes topped with Ahi tuna) or the sashimi-style Tiradito Criollo. That's because La Mar is the first undertaking on U.S. soil by star Peruvian chef Gaston Acurio—and rest assured, after bringing his native food to seven different countries from Chile to Spain, this guy's a pro.

Take a waterfront table on the patio and whisper sweet Spanish nothings into her ear as she gazes across the Bay at Treasure Island. When things get a little too chilly—or too hot—head inside to the cebiche bar, where you can share the Cebiche Tasting, a flight of four cebiches.

Order her a Uruguayan Tannat, or stick with a California red. And after dinner, retire to the pisco bar to sample the iconic Pisco Punch—invented in San Francisco using Peruvian brandy.

Could be the perfect nightcap. Could be just the beginning.