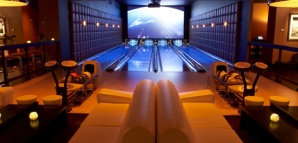 Some say bottle service is going the way of dial-up internet and the independent broker-dealer.
 
We say you just have to get a little creative in these strange days. Rolling into Hell's Kitchen this weekend is Lucky Strike Lanes, a retro bowling alley and lounge that may just be the city's preeminent bottle service/sports/shenanigans complex.
 
While you may have boozed your way through a softball game this past spring, you probably haven't poured a Greyhound in between seven-ten splits recently. But show up to Lucky Strike (bring your cadre of ne'er-do-wells), and have your pick of 22 lanes, 11 pool tables, a full bottle-service menu and some classic bar food (it's all pretty standard, but go for the Mac & Cheese Bites and a Root Beer Float).

The whole massive complex is decked with Lebowski-ish retro touches like neon stars, but the Luxe Lounge is where you'll want to set up camp most nights. With four lanes, white leather couches and a massive movie screen, it's sort of like the VIP bowling lounge within a lounge. You can even rent it out for that Kingpin viewing party you've been planning for your favorite 80 bowling aficionados.

Assuming you can narrow the list to just 80.