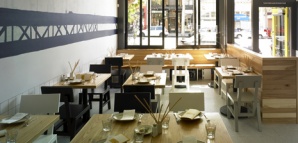 You know a good pie when you eat one.

Which is why we're used to bumping into you on 18th Street waiting for a table at Pizzeria Delfina—and why you'll be happy to hear that the second outpost of Pizzeria Delfina opens today in Pac Heights.

The much-anticipated sequel is similar in look and feel to its Mission counterpart, but this one is twice as big, so your wait should be shorter...or at least less congested.

You'll find hints of an East Coast pizzeria in the tiled floor and stacked pizza boxes. But not to worry, California design ultimately prevails—think cushy gray leather booths instead of red vinyl, hickory wood accents and a still-in-the-works hand-painted mural of the San Francisco Bay.

Add your name to the chalkboard, then order wine from the 25-by-the-glass list or go for the house wine on tap. You'll find all your favorite menu items from the original spot (Pane al Pomodoro, 4 Formaggi Pizza), plus some signature specials, like the Neapolitan Meatballs, listed permanently here.

To start, there's Fresh-Stretched Mozzarella. To finish, there's house-made gelato (like Fresh-Mint Strachitella) served in brioche.

They've also got a really good Clam Pie.

But you already knew that.