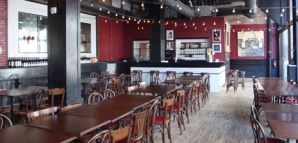 If there's one thing you like in something new, it's something familiar.

So you'll feel right at home at the new brasserie called Church & State, opening tonight.

You'll recognize the large space instantly, even though you haven't seen it before. (It's on the ground floor of the Biscuit Company Lofts in a ghost-town part of Downtown.) Steven Arroyo, the man responsible for your many wine-soaked dinners at Cobras & Matadors, has again gone with his familiar industrial-loft look, which means heavy on the bricks, exposed ceilings and casually mismatched wooden chairs. This time around though, you'll find more room, more patio, more booze (there's a full bar) and more French-ness.

Take a seat by the windows with your date (or with a larger group, just take the whole row of tables). Choosing from charcuterie, mussels and cheeses, you can construct a long meal with small plates and some Bordeaux. But if you crave some bigger dishes, you can go for the Boeuf Bourguignon (beef stew) or Truite au Lard (trout in bacon).

Because if there's one thing you like about a small-plates place, it's their big plates.