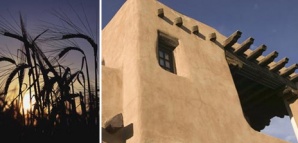 It's been a tough few days for your money.

In times like this, you're dreaming of a private jet (with a nicely stocked galley bar) to whisk you far, far away. But given the week you've had, it might be wiser to stay closer to home.

May we suggest Encantado, opened just last month in northern New Mexico. It's only a dozen miles from Santa Fe, and a world away from what ails you.

Easy to access and effortless to enjoy, Encantado is even more effective in calming your nerves than a double scotch. Nestled in the shadow of the Sangre de Cristo Mountains, its 65 individually decorated casitas—each with exposed beams, wood-burning fireplaces and heated floors—spread out over 57 acres of gratifyingly empty desert.

Your anti-anxiety Rx? Start with a tension-dissolving Sacred Stone Massage (and you thought nothing was sacred anymore) or a Blue Corn and Honey full-body rubdown (if it works for tortilla chips, it works for you). Take a wander through the onsite art gallery, or get lost in the (allegedly meditative) stone labyrinth.

Or if you'd prefer your usual cure-all—sustenance and libations—the in-house destination restaurant has a Le Cirque-trained, James Beard-recognized chef in the kitchen, and the wine list to back him up.

It's not a time machine. But it might be the next best thing.