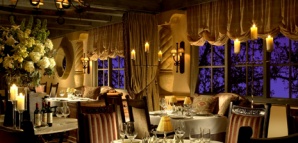 We love the city, but let's face it, we love leaving it even more. Hence Get Out of Dodge, which periodically hooks you up with the best weekend getaways just a short skip away. Get going...

There comes a time in everyone's life when two alluring objects of desire fight for your affection.
 
Time to sort things out—so you'll want to make reservations now for the Beer vs. Wine Dinner (and a room after, of course) at the Rancho Bernardo Inn.
 
After knocking off early for a leisurely drive down the coast, check in and gear up for what we like to think of as two tasting feasts in one...at the resort getaway's in-house restaurant, El Bizcocho. 

You'll get six courses, sure—everything from an upscale twist on Fish 'n Chips (Atlantic fluke with sweet-potato jus) to Olive-Poached Venison to 36-Hour Pork with Kimchee Consumme, Golden Raisins and Maple Dust.  And with every plate, the sommelier will pull out a special bottle to pour his idea of a match...but the Stone Brewing Company man has his own take on what should go with the meal, so you'll get an artisanal beer or six from him too.
 
There are scorecards involved to help you, your date and the entire restaurant declare beer or wine the ultimate victor at the end of the evening...
 
Thankfully, you've never feared facing life's toughest decisions.