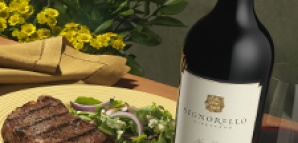 When other people think delivery, they think pizza and chow mein.

But you, you dream bigger. You think huge shipments of kobe beef and Napa estate wine.

And now you can finally live it. Say hello to the Kobe and Cabernet Club, maybe the best thing to hit the delivery world since the milkman.

The Club is a joint venture between two of your favorites, Snake River Farms and Signorello Vineyards. It pairs the Idaho ranch's richly marbled, super-tender kobe-style meat with the Napa winery's lush, full-bodied wines. (We know—some matches were made in heaven.) They'll deliver both to your front door three times a year—around Christmas, Valentine's Day and Father's Day—and all you do is pay per shipment (no signup fees here).

Expect deliveries like the holiday package—a rib-eye roast that serves ten, paired with three bottles: the Estate Cabernet, the Padrone Reserve Cabernet and the club-exclusive Meta (50 percent syrah, 50 percent cabernet). For Valentine's, you'll get four tenderloin filets, a bottle of the club-only Uvaggio (a cab-merlot-cab franc blend) and two bottles of cabernet sauvignon. (If this doesn't satisfy you and your sweetheart...you might need a new sweetheart.)

And if you're jonesing for a buttery filet or a hearty cab come July, you can place additional orders year-round. They'll even cut you a deal.

After all, membership has its privileges.