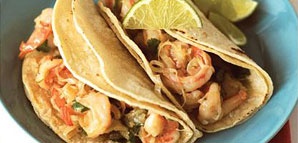 In light of the country's current economic woes, some restraint is probably in order.

So maybe only six tacos for you today—Hugo's Tacos has opened shop in Atwater Village.

The new stand from the Hugo's family—you've done the low-key power-breakfast thing at Hugo's in West Hollywood, because nothing says power like an oatmeal frittata next to Drew Barrymore—shares much in common with the empire's other taco stand way up the 101 in the Valley. Except, you know, this one's not way up the 101 in the Valley.

Drop by after work to customize your box of take-home tacos from almost too many options—crunchy or soft shell, seven salsas (from mild to not-mild to Honey Chipotle) and seven fillings, from the usual chicken and steak to our favorite, the Soy Chorizo, Potato and Zucchini specialty. (They all come cheap, especially if you order in threes.)

Of course, if you didn't come to the taco stand for tacos (you're unpredictable like that), you can also fill your passenger seat with Salsa Burgers, a Breakfast Quesadilla filled with scrambled eggs and—sure, why not—vegan Rice Pudding.

Because restraint doesn't have to mean...restraint.