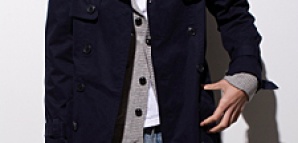 You're no slacker.

You work hard. You play hard.

Which means you need clothes that can keep up—think stuff that looks as good at a FiDi office as it does at a Mission bar.

And maybe nobody gets that better than menswear designer Hyden Yoo.

Now, that name may ring a bell. You remember a Hyden Yoo who won season two of Fear Factor by eating a cod egg sack, then for an encore sucked on a goat's teat on the champions show. But surely that's not—

Yes, the very same. He used his fifty-grand Factor windfall to get started, and now his full collection is trickling into select SF boutiques.

His shirts look great tucked in or out thanks to a narrower fit and a slightly shorter cut than traditional dress shirts. His dressed-up khakis feature contrast lining at the pocket edge, which should earn you praise as a man who pays attention to the details.

You'll also find vests and sweaters, plus two jackets we've got our eye on: a black nylon anorak accented by an orange-and-blue-plaid flannel lining, and a slim-fitted navy trench, which can be dressed up or down.

Perfect for a quick turn from PowerPoint to pints.