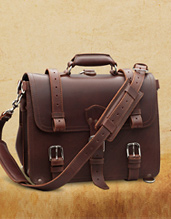 We don't mean to pry, but we just got a peek at your travel schedule—and it's looking a little hectic.
A spring getaway to Marfa. Headlining SXSW. Presenting at the Oscars.
What you need: a little arm candy. Something sexy, stunning and, of course, very leathery.
Meet
Saddleback Leather
, a handsome line of under-the-radar bags, wallets and belts out of San Antonio, available now.
The background: an English teacher needed something to withstand long hauls to Juárez and Beijing. So naturally, he designed a line of leather pieces you'd expect to see hanging on the shoulder of Indiana Jones. (To protect his fedora collection from rolling boulders and overhead bins.)
The leather's fully tanned (translation: the prime cut of leather). The buckles are nickel-plated hardware, the kind used for horse collars. The lining's made from pigskin used by the NFL. (So don't hand it to Tony Romo or he might fumble it.) Oh, and the seams are reinforced by nylon straps, before being durability tested...
by a crocodile
.
We see these fitting into your plans a few ways. For your upcoming SXSW trip, you'll want to toss your concert attire (leather pants, rhinestone jacket) in the light-brown
Beast Duffel
bag. And for this weekend's trip to LA, we recommend packing your tux in the coffee-brown leather suitcase.
Maybe leave some room for Oscar.