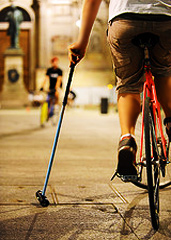 Polo.
The sport of kings: world-class thoroughbreds, unmatched battlefields... pastel shirts.
It's about time you hopped on a horse and played.
Or maybe just grabbed a bike...
Meet
Dallas Bicycle Polo
, a league for anyone with a bike, a mallet and/or a stirring passion for glory, playing games now.
Now, this sport has been around a long time—since 1891, if the discerning sports hounds at Wikipedia are to be believed. But here in the city, it's just beginning. Once a week, a group of brave athletes plays a pickup game on a roller hockey rink at Norbuck Park. And they're inviting you to join their ranks.
So say you don't have a mallet. Or a bike. Or a stirring passion for glory. No problem—these guys can hook you up with two of the three. (And you were obviously lying about not having a passion for glory.)
Once you meet up, you'll be pedaling with the top/only bike polo players in the city. Here are a few rules: the first team to five goals wins, goals must be scored using the mallet, and you cannot put your feet to the ground. Oh, and watch for unsportsmanlike body checks.
After a heated match, don't be surprised if you get recruited for an upcoming tournament in San Antonio.
And a rookie of the year trophy.