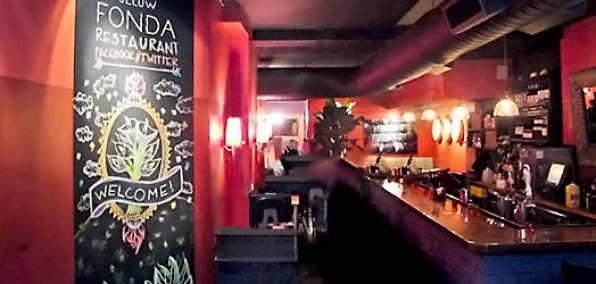 Happy early birthday, George Washington.
Now there was a guy who loved spicy guacamole and hibiscus-infused margaritas.
Wait. It may have been wooden teeth and chopping down cherry trees.
Regardless, we're sure if he were alive today, he'd want you to have these enchiladas.
Meet
Fonda
, a Mexican restaurant on Avenue B that has everything you'd want out of a Mexican restaurant on Avenue B. Good queso. Authentic mole. And a big wood bar full of powerful tequila elixirs. And it opens Tuesday.
This place comes to the East Village courtesy of Park Slope (yes, the Yucatán Peninsula of West Brooklyn) and a Latin-blooded chef (the former Rosa Mexicano culinary director) who's all about the three B's.
B
raised meats.
B
old salsas. And absolutely no mariachi
B
ands.
Not that you need an excuse to frequent an establishment that serves
slow-stewed duck on soft, warm tortillas
, but taking a date here would be a nice idea. See about reserving the lone booth in the house. It's up front in the red-painted dining room and right next to the bar. Which is key, considering what we're about to tell you.
These guys do margaritas right. Fresh fruits (guava, mango, pineapple), a touch of orange liqueur and a heavy slug of silver tequila.
Just the way G.W. liked it.