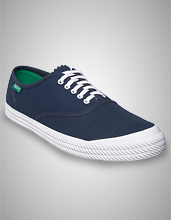 Australia. Provider of many less-than-excellent things.
Colossal steakhouse chains. Vegemite. Kylie Minogue albums.
But every once in a while, they get something absolutely right.
Like, say, their casual footwear. And the return of a shoe that was all the rage in the '70s.
Presenting the 
Volley OC
, your new way to sport a classic Australian look that doesn't involve safari shorts and a big-ass knife, available now.
Picture it: Sydney. 1975. Paul Hogan is just a young tyke, Rod Laver is touring the country and dating Australian supermodels (we assume), and everyone is wearing these shoes. (Seriously: they're the country's top-selling sneaker of all time. Which is why... Dunlop discontinued them?)
At any rate, they're back now. So you should consider these the kind of understated, sawtooth-tongued deck sneaker perfect for your stints on a sailboat this spring. (They are, after all, inspired by a traditional Rhode Island–style yachting shoe.) Or you can just wear them when you're doing anything vaguely Australian and/or nautical: eating meat pies. Watching old Mel Gibson movies. Flipping through
Crew Magazine
.
And if you're still having your doubts about their overall sportiness, know that they're the official sneaker of the Aussie Olympians competing in London this summer.
Captained by Hugh Jackman, no doubt.