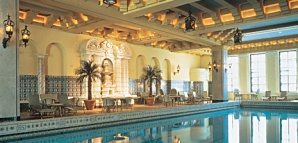 You have nothing but respect for Michael Phelps. But you have no desire to compete with him. The
LZR
is not a good look on you.
That's why we're introducing you to
I-Fitness Club
at the InterContinental Chicago. Hearkening back to when getting in shape was a more gentlemanly pursuit, the Michigan Avenue hotel gym now offers a limited number of fitness memberships to non-guests.
The admittedly small space has the television-cardio combos and well-appointed locker rooms that you now expect in a gym. But if that's all you want, any sweatbox in the city will do. I-Fitness's lure is ambiance—mainly in the form of its original 1929 swimming pool on the 14th floor.
Part of the building's original men-only Medina Athletic Club, the always-open pool drips with luxury no modern gym can touch. After you're done with laps, climb onto a wicker lounge chair and stare at Moorish accents like bottle-green stained glass windows, imported Spanish tile and an ornate Neptune fountain. Go ahead and dream of a time when Chicago's powerbrokers called this their second home. (And yes, this gym allows naps.)
You'll appreciate other old-fashioned amenities like $3 laundry service and discounts at the wine bar in the hotel's lobby. We hear poolside service may be in the works, which would be nice.
You've always felt the medley was missing a step.