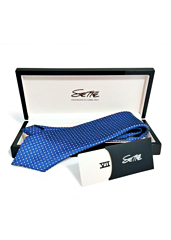 Today, we'd like to talk about getting your neck the attention it deserves. No, not that kind of attention, though that's fine, too.
The kind of meeting-stopping, client-schmoozing attention that only a former White House staffer armed with a full meter of Italian silk can provide.
Let us explain. Presenting
Sette Neckwear
, a new line of showstopping Italian ties, available now.
These are the kind of ties you reserve for closing deals. And there are a few things we think you should know about them:
1) They were conceived when the founder was on White House business in Italy and chatted up Berlusconi's personal tie maker (yes, really).
2) Each tie is the product of a full meter of Italian silk, folded seven times with no liner and hand-sewn in Como.
3) Only 21 individually numbered ties are made from each design (some are limited to just seven).
Now, these things—unsurprisingly—don't come cheap. But they do come in their own custom-made, leather-lined boxes. Your choices include the
Regal Black
(for Johnny Cash–level simplicity), the
Grand Old Sette Red
(with elephants) and the
Blue States Blue
(with donkeys).
And for real power, you could do worse than the
Crestwood
. That's the one Bill Clinton has, a subtle green number with tiny lavender poppies.
We hear it looks great on a doorknob.