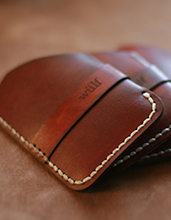 Lasers.
Great for Bond villains, Pink Floyd concerts and your upcoming Presidents' Day toga party. (You're not a stickler for tradition.)
And starting today: your wallet...
Meet
Wülf Work
, a new line of handsome wallets and belts from a former KPMG accountant out of Vancouver, available now.
If Mark Twain and Dr. Evil ever got into the leather goods industry (and why wouldn't they), this would be the result. Think rugged wallets and belts worthy of your next cross-Texas motorcycle trek on Highway 302. And they're all designed using frickin' lasers. (Accountants love being exact.)
The material: English bridle leather from a 100-year-old Toronto tannery. (Nobody does leather like Torontons. Or Toronto-ites. Whichever it is.) The belt: connected with brass buckles used on ships. The wallet: sewn together with polyester used for sails, and given a minimal design for holding the essentials and nothing more—the anti-Costanza, if you will.
And you will.