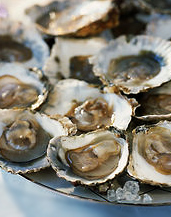 Champagne. Chocolate. Thick accents.
The French have been acting Valentine-y long before there was Valentine's Day.
So it would be a good idea to look their way for inspiration when it comes to a certain seafaring aphrodisiac...
(Hint: it rhymes with "cloisters.")
Behold:
French Hogs
, a species of oyster native to the riverbeds of Brittany and the integral component to the success of your upcoming revelry, available today and tomorrow only at Hog Island.
These rare bivalves—also referred to as "flats"—come from a long line of oysters prized throughout Europe. And since it's the first major harvest to come out of Tomales Bay, they're extremely limited.
The easiest way to get your hands on these coveted nuggets is to grab two stools at the bar and start with a dozen on the half shell. Expect them to appear on a large, shallow, fan-like shell that's almost more clam-like than oyster. But don't be fooled, because the distinct lingering, earthy, mineral-y, briny flavor is all oyster.
Of course, you could go directly to the source and make a day of it at the oyster farm on Tomales Bay. Or if you want the bar delivered to you, the Hog Island guys have been known to travel.
Just like you've been known to eat a few oysters.