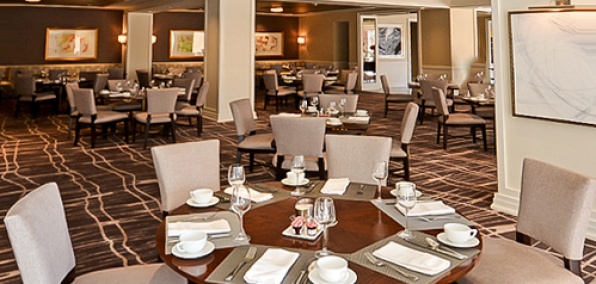 You may have heard: the masters of the universe can go back to their favorite morning haunt. Yes,
Seasons
restaurant at the Four Seasons has returned after a two-month, $1 million renovation. It's bigger and it's less yellow, but to bring you the hard data, we checked it out:
5:
Distance, in feet, between most tables, so as to discourage eavesdroppers. (They're out there. They're always out there.)
20 to 26:
Numbers of the newly added power tables along the rear window, where you can have the sun at your back while surveying the whole room.
7:
Seconds it will take you to get from table 22 to the door to hand Madeleine Albright your white paper on turning North Korea into "Disney Asia."
3:
Spectacled, Brooks Brothers–clad gentlemen you might mistake for George Will on a given morning.
1:
Actual George Wills.
4:
Soft armchairs in the new breakfast bar/lounge area where you can have your coffee and take in CNN on the flat-screen.
3:
Sliders in the order of breakfast sliders (pork sausage, eggs, aged cheddar, housemade buns).
1:
New dish
that would be considered dessert at any other time of day (the '
Smashed' Chocolate Croissant French Toast
).
65:
Approximate temperature when you'll want to take your power-breakfasting outside to the new patio, complete with sectional sofas and umbrellas.
0:
Umbrellas you get in your coffee when you sit outside.