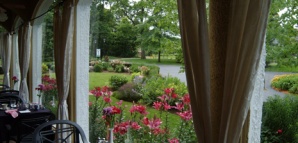 We love Chicago, but let's face it, even we need a bit of breathing room. Hence
Get Out of Dodge
, which periodically hooks you up with the best weekend getaways just a short skip away. Get going...
Of course Chicago's fabled families (the Armours, the Swifts, et al) made Lake Geneva their summer retreat. They never had to go elbow-to-elbow with the fudge-hunting tourists that now swarm its steamy streets.
Modern moguls like you wait until after Labor Day, when crowds of sticky masses have thinned, before heading to your lakeside mansion. This year, your patience is doubly rewarded: introducing
Nicoise
, a French-American small-plate restaurant that quietly opened last weekend. It even comes with its own manse.
You'll find this new destination tucked inside the lovingly restored Golden Oaks Mansion, the 152-year-old home built by Dr. Philip Maxwell (the gentleman for whom Maxwell Street is named), which has served as a bed and breakfast since 2001. Surrounded by thick lavender gardens and a gurgling fountain, the spot still provides more than enough distance from the maddening crowds.
You and your weekend companion will feel safe enough to sink into oversized Louis XIV-inspired dining room chairs, while servers in white silk bow ties bring you shareable tapas-sized portions of contemporary French fare like medallions of veal tenderloin or a chilled lump crab tower, followed by the cognac-amplified
Chocolate Fantasy Cake
.
Because while you never liked sharing the streets of
Lake Geneva, you don't mind sharing a little dessert.