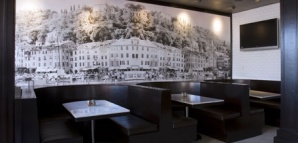 You take your pizza very seriously. There are only a few you can trust to get it right. Like TV actors, and the occasional LA Clipper. Thankfully, Cristoni Pizzeria is now open...and open late.

You'll find it hidden in a random strip mall on Sunset, where a famed fourth-generation pizzaiolo from Naples is slinging pies until 2am Thursday through Saturday (midnight on other nights). So you'll want to sneak out from the bars early to grab one of the three booths within (we'll call the inside...cozy). If you snuck out less early, you can just stay on the larger patio to bask in the flattering glow of Sunset Strip brake lights while enjoying your Black Truffle Mushroom Pizza, or the namesake specialty with a ricotta crust—any of them can be ordered round or as a Sicilian-style square.

And don't be surprised if you find yourself pulling off a slice next to an NBA star or a Hilton sister—Cristoni is brought to you by Kevin "Entourage" Connolly, Boston Celtic Sam Cassell, LA Clipper Cuttino Mobley...and Tony Riviera, the man behind Caffe Primo across the street. (Location, location, location.)

One thing they all have in common—lots of dough.