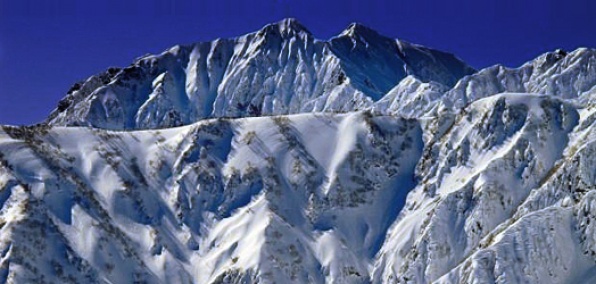 You remember it like it was yesterday.

The power. The pageantry. The breaking news reports from a young Gus Johnson.

Yep: Nagano... '98.

Perhaps you even watched the downhill and said, "One day, I'll take on those slopes..."

In which case, today is your lucky day.

Set your sights on the Japanese Alps Ski Tour, the Olympic-tested challenge you've been waiting for, scratching late-season ski itches now through spring.

Consider this your stopgap solution to the current nearly global snow shortage. As luck would have it, your destination—Japan's Hakuba Valley—is getting slammed with a level of snowfall not seen in years (30 feet since the start of ski season). And with freakish weather patterns... comes opportunity.

That opportunity's name: Shiga Kogen—site of the '98 Winter Games, and your freestyle/downhill kingdom for the week. Your domain: 437 acres of freshly powdered peaks, measuring up to 6,000 feet high and 37 degrees steep. And jutting from those slopes: more over-powdered, ungroomed moguls (the ski bump kind, not the Mark Cuban kind).

After a hard day's work (well, "work"), you'll go for a little sake tasting at the 240-year-old Masuichi-Ichimura Sake Brewery in Obuse. You'll want to pick up a few rice bottles for the famous Jigokudani hot springs—a steaming, rock-formed bathhouse home to wild gangs of red-faced snow monkeys...

We never said it wouldn't be dangerous.