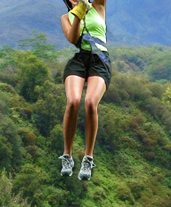 Valentine's Day: 18 days away.
Yes, you'll acknowledge the holiest of the Hallmark holidays.
But you're not playing by the traditional rules. No, you're getting your date something different... flying through the trees at 30 mph different.
Meet
Wimberley Zipline Adventures
, a zipline course outside of Austin and possibly the craziest thing you can do with construction gloves on, taking reservations now.
Warning: this date isn't for everyone. Your special someone will be 850 feet in the air, soaring across a mile of rope in the middle of Texas. So yeah, a little warning might be nice.
It'll start with a three-hour drive to the Hill Country. Once you arrive, you'll be greeted by your canopy guide. After a quick safety briefing, you'll slide on a harness, toss on construction gloves and strap on your helmet. (Remember, tell your date how ravishing she looks in headgear.)
From here, a camo truck will take you to the launching point at the top of the hill. After you're attached to the line, you'll push off and start flying through the Texas sky. You'll be reaching speeds of 30 mph as you glide from tree to tree with valleys, ponds and deer below you.
This may also give you some ideas for what to do after your date...