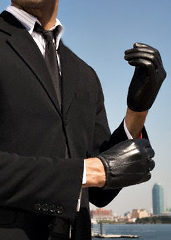 Your other half is out there. Somewhere. We know it.
A mate that's soft and beautiful on the outside but warm and tender inside. One that's all alone right now, just pining for the caress of your fingers.
Here to play matchmaker:
Looking for Glove
, a website that serves as a lost and found for your missing mittens, online now.
As big ideas go, this site ranks somewhere between Craigslist's Missed Connections and a lunar colony. And that's the sly genius of it all. Helpful citizens from around the city have uploaded pictures of these singleton mittens with bare-bones descriptions—color, material and whether it's lost or found. You just log on and scroll through the lineup.
Or you can be proactive and send photos of your misfits: that remaining righty after lefty went missing during your ski trip. The remaining white glove for the one that flew across the Civic Opera House's lobby when you challenged the churlish usher to a duel with a firm slap. If someone has rescued its opposite, they can contact the site administrator, who will in turn notify you.
Now if they would just develop the same site for missing trousers, you'd be all set when Monday rolls around.