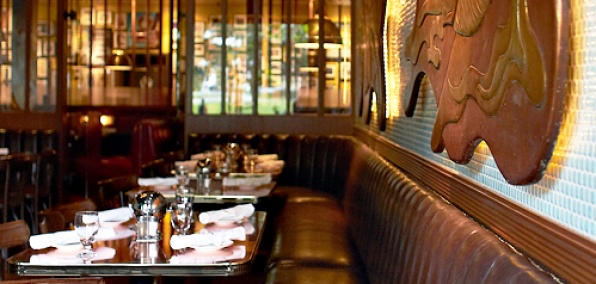 Fire.

Good for cooking steak.

Bad for a restaurant serving steak.

That is, unless the restaurant gets to relocate to a prime piece of corner real estate in the heart of North Beach...

Welcome back Original Joe's, the shiny new version of the iconic mainstay formerly located in the Tenderloin, opening tomorrow in Washington Square Park.

You might've dropped into this old-school landmark in its pre-fire Tenderloin days. But its new 94133 zip code means you won't have any neighborhood considerations keeping you and your date from one of the red crescent-shaped booths.

When you step inside, you have the option of moving left to the bar or right into the dining area. Act as if it's really a choice, head left and snag a spot on one of the green Naugahyde banquettes by the fireplace—which is made of exactly 902 salvaged bricks from the original locale—and admire the art deco mermaids (a few martinis will help).

Then make your way to your booth. Since the main difference between this and the original is the raw bar, start with a few oysters before ordering old favorites like the chicken piccata and ox tails.

If you head all the way back past the memorabilia wall, you'll discover a private room called the Salesian Room that's lined in tufted leather.

The world needs more tufted-leather walls.