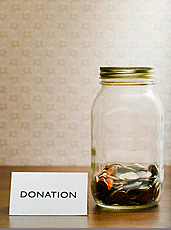 Not everyone has what it takes to save the world.
You need guts, courage, a really great catch phrase...
And, of course, naked pictures of yourself on the Internet.
Presenting
Bare Naked Bake Sale
, a soft-core version of Kickstarter in which regular folks upload tasteful nudes of themselves in support of charity, saving the world, yada yada yada, online now.
It's all really simple. Artistically nude photos (you know, the ones with lots of body paint and strategically placed cantaloupes) are posted for your perusing pleasure. Each gallery is tied to a charity. If you want to view the pictures full-size or make the world a (marginally) better place, you'll give a donation.
Of course, if you feel like there's a particular charity case that's not getting enough attention (Save the Hostess Cupcake Foundation/your bar tab at the Spotted Pig), you can always create an online album populated with your own provocative self-portraits.
And because goodwill nudity shouldn't be limited to just the Internet, the forces behind the site will also hold offline fund-raising events. Up first: a Burlesque Bake-Off in SoHo.
Come for the show, stay for the snickerdoodles.