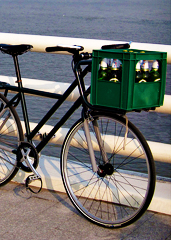 Your house and a bar aren't totally dissimilar. There's the strategically placed flat-screen, the occasional surliness from the owner, the chance that someone could graffiti the bathroom at any moment.
And of course there are big differences, too. For starters, you have yet to implement a rigorous ID check. Also, you run out of beer occasionally.
We hate that.
But we have a solution. It's called
Beer and Wine Delivery from FoBoGro
, available online now to bring you a sixer from 6pm till midnight, seven days a week, anywhere within a couple miles of the shop.
This is just what you hoped it would be: an automated, online service from Foggy Bottom's grocer-cum-sandwich shop-cum-coffee shop, in which they'll dispatch a guy on a bike to bring alcoholic necessities to the apartment, pied-à-terre or, we suppose, downtown parking garage of your choice.
So the next time you find your supplies dwindling at exactly the wrong time, log on, browse the menu and order up anything from a six-pack of Dogfish Head to a 30-pack of Keystone cans. Oh, and champagne.
And because they're a campus grocer, you can tack on other essentials like ping-pong balls, cigars and a pound of Swedish Fish, all to get there in about 30 minutes.
You know, for the Pro Bowl.