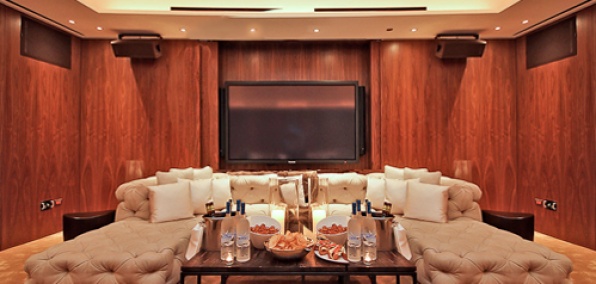 The conference championships have been decided.

February 5 looms.

And while you're fairly indifferent to a Pats-Giants matchup, you've always thought the Super Bowl party itself was the more competitive sport anyhow.

So for your consideration: Super Bowl Viewing Party at the Public, the most decadent way to watch the game in town, taking reservations for you and up to 49 fellow football enthusiasts now.

It's like Tebow himself called in a favor from the Big Guy on your behalf—by which we mean Ian Schrager, who will be marshaling his best players to service your game-day needs.

Your playing field: Public's Screening Room, nestled just behind the Library. It's a plush sanctuary with the feel of the media room in someone's North Shore mansion, equipped with a 110-inch screen, faux-mink-fur throws draped over tufted sectionals, cotton candy and servers popping champagne corks.

Your special teams co-coordinator: Jean-Georges Vongerichten, who will develop a one-day-only menu of your standard game-day fare: artisan pizzas, Kobe sliders, hot dogs with kimchi relish and Japanese mustard. Besides, Lucas Oil Stadium doesn't allow you to bring your own servers.

Your teammates: 50 of your comrades doing their best to polish off the beer and bottle service. They're both unlimited, but you admire your friends' never-say-die spirit.

The ante: $10,000, which you'll easily afford with your winnings from beating the spread in this weekend's matchups.

No one else had Gingrich by 13.