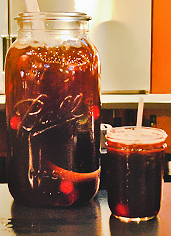 This is no time to rest.
Now that a Finkle-esque kick has resulted in the Patriots moving on to the Super Bowl, you've got a lot to think about.
Where you'll be watching the game. Which of your three Gronkowski jerseys you'll wear. What you'll drink.
As for the last one, allow us to suggest something moonshine-y.
Introducing the
Super Ball
, a humongous Ball mason jar filled with moonshine, housemade cherry brandy and beer, available only on Super Bowl Sunday at Sweet Cheeks Q.
To get your head around this thing, picture a gallon-sized Ball mason jar. Then add a bunch of corn moonshine (created by a former NASCAR driver, no less), the aforementioned housemade cherry brandy and Narragansett Porter. All poured over ice. Top it off with a splash of cola and a few cherries, and you've got a beverage that could basically power a Chevy.
Or you and five friends on Super Bowl Sunday. Because you'll arrive at Sweet Cheeks early, grab one of the tables made from old bowling lanes and order one of these. As your pals stare up at a flat-screen, you'll ladle out the refreshment into regular 16-ounce Ball mason jars, then sit back as the moonshine kicks in while Gronk spikes his first pigskin of the day through the earth.
Feel free to spike your cherry in solidarity.