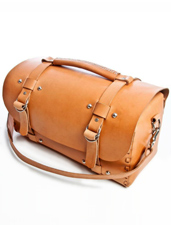 There's one thing that's always been there for you.
When your body has needed warming.
When your money has needed holding.
When your suits have needed casing.
Yes, it's leather. Speaking of...
Check out
Kenton Sorenson
, a smart line of leather things out of the upper Midwest, available online now.
So this guy Sorenson: he's a retired classically trained barber from Minnesota turned Nordic cowhide god. About 25 years ago, he decided to fashion himself a leather case for his various tools. It ended up being a pretty damn great case, so he dove into the cutthroat world of leathering. And what leathering. Think straps instead of zippers, and nickel plating instead of brass. Long story short: you're about to get a lot of compliments on your new briefcase, iPad sleeve or weekend bag.
You'll use this stuff to, well, carry other stuff. If you've got a newly minted Kindle Fire, there's a leather case just for it. Your passport: of course. Your iPhone now has its own special wallet. All of it comes in sort of a pale brown color that'll age into a nice, ancient-looking caramel and just get better as the years go by.
Which is pretty much your plan, too.