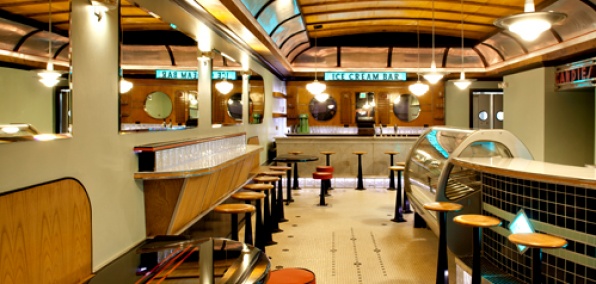 There was a time when a scoop of ice cream was all you needed.

Okay, that's not true. But still, it can't hurt to have a new ice cream dealer to fold into your frozen dessert date spot repertoire...

Introducing The Ice Cream Bar, a throwback 1930s-diner-style ice cream counter and soda fountain shop, opening Saturday in Cole Valley.

The proximity to Golden Gate Park makes this old-school spot an ideal pit stop to decompress with your date over banana splits and egg creams after a trip to the de Young.

Inside, it's a cross between an oversized, wood-paneled Airstream and a post-war Woolworth lunch counter—complete with art deco glass blocks, black tiles and vintage lamps.

Head back to the best seats: the stools at the original 1930s marble counter. Here you'll have easy access to the ex-Rickhouse barman, who'll advise you about which of the 75 homemade syrups and tinctures he could turn into custom sodas.

En route to your seats, make sure to pause by the glass freezer case to check out the day's ice cream offerings (think: Sicilian Pistachio, Sugar Cookie).

Since ice cream sandwiches might not pass as real food, you'll find grilled cheese and hot dogs on the menu soon—as well as beer and wine once the permit is approved.

Also, hardly categorized as real food.