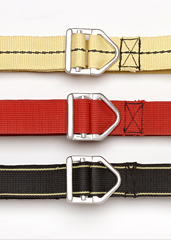 Look down.
Right around waist-level.
Chances are you see a belt. And chances are it's holding up your pants.
Which only makes sense, considering that's what belts are supposed to do. That, and retard 800-degree flames.
Apparently...
Because somebody went ahead and invented the
Smokejumper Belt
, quite possibly the most unnecessarily battle-ready pants-holder-upper the world has ever seen, available now.
Basically, what you're dealing with here is a belt made of Kevlar (it won't melt until it reaches 800 degrees), a buckle made from a steel parachute harness (it won't break until it holds over 2,500 pounds) and a... color made of yellow, red or blue (it won't look bad on your seafaring vessel or croquet lawn of choice).
In other words, if this little piece of waist candy were a movie, it would probably be called
Backdraft: The Holden Caulfield Story
.
So sure, you could easily fight a fire, rescue a damsel or get dangerously close to the s'mores pit all without the risk of damaging this thing. But since none of that will be happening anytime soon, you're probably better off just donning the navy blue number before your Super Bowl tailgate or a casual Sunday brunch.
If your eggs Benedict catches on fire, you're good.