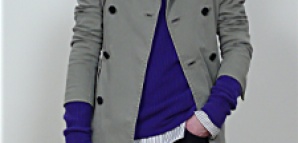 Whether it's the Kennedys or the Jacksons, there's nothing like a good dynasty. And while we aren't clamoring to hear Tito's solo work, a little brotherly love never hurt anyone...

Introducing Richard Chai, a menswear line hitting stores this week that just might be the beginning of a new dynasty.

Eddy Chai has been one of New York's most powerful tastemakers for some time now—if you've walked through East Village menswear boutique Odin, or walked past someone who has, consider yourself influenced—but his brother Richard has been left toiling away in women's wear. Until now, that is. His new collection takes the preppy look a few steps further, resulting in revamped peacoats and cardigans that manage to look a few decades ahead of the usual polo shirts and slacks. In other words, you'll be the best-dressed person at the Strand...for those critical times when you're aspiring for that title.

Of course, it's a fall collection, so you'll also have your pick of impeccably cut flannel shirts and vividly colored V-necks to prepare for chillier times, along with a set of close-cropped pants of the kind you might expect from his brother...

But don't be fooled. Richard's no Tito.