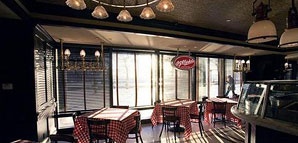 Few things are as satisfying as the perfect bar:

The knowing bartender clad in white service coat who draws the perfect Guinness, always pours a double and tips you off to the stunner sitting alone at the end of the bar.

The killer burger available until 2 a.m.

An old-school jukebox heavy on the pre-1981 classics.

For 120 years, this place has been P.J. Clarke's on East 55th—a New York classic, older than even the Empire State Building and Brooklyn Bridge—proving that the perfect beer, burger and crowd will stand the test of time.

Just yesterday morning, P.J.'s long-awaited spin-off, P.J. Clarke's on the Hudson, opened to downtown neighbors (in the Spring, a third will open on the Upper West Side). The downtown is bigger with an expanded menu, but the vibe 100% old school and the approach is still the same: give the people what they crave.

Uptown or downtown, get a table in the dining room, order something on tap, a burger medium (they have a tendency to undercook) or a half dozen oysters, and the home fries well-done (back in the day it was a code that got you a special, larger plate), then crank up the Sinatra and head for the end of the bar.

Proof that even in Manhattan, some things just don't go out of style.