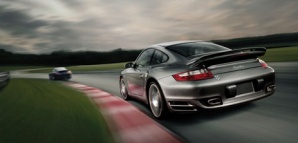 Labor Day is officially over, which means your white suit is headed into storage and the summertime Hamptons drive is giving way to a reliably gridlocked Midtown cab ride.

That is, unless you've got a trick up your sleeve...

Welcome to Supercar Life, your ticket to a day of speed, scenery and some of the fastest cars you've ever seen, now taking reservations for a big track outing next Wednesday.

Just make the trek across the river to New Jersey Motorsports Park, a month-old settlement outside Atlantic City with a pair of winding two-mile tracks stacked with challenging corners and hills. Supercar will bring along the other goodies: a set of sports cars unlike anything you could round up without taking out a subprime mortgage or two.

You'll have a Ferrari F430 for speed, a Porsche Turbo 997 for roadster-style handling and an Aston Martin DB9 in case you want to play Bond for a few laps. (Unfortunately, they left the ejector seat at home.) You can take your turn with each one and get some pointers on each ride from professional closed-course drivers while you're at it. If you're feeling lavish, the Supercar folks will set you up with a car out of the city the night before, along with a place to rest your head while you're prepping for the next day's drive.

Think of it as a preemptive pit stop.