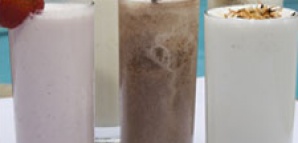 It's been a tough few hours since that long weekend break—you really need a break.
Might be time to cut out early for a couple of milkshakes served the way they always should be—spiked. Like the
Oceana
Shakes
now on the menu at the Hotel Oceana's under-the-radar poolside lounge.
You'll find tables by the pool just past the lobby in the Santa Monica hotel's central courtyard—which is where you can settle in and get to sampling. If it's feeling like a rum kind of day (it is Tuesday, after all), you might start with the
Toasted Coconut
, with coconut-infused rum and coconut milk, or the equally rum-heavy
Sugar Cane
Horchata
.
And as for your date, she'll have the
Hot Pink
—which we'll just call by its two most important ingredients, strawberry and vodka—or you could split the off-menu black-and-white concoction for a more '50s-style (read: booze-free) romantic tradition. (They've got flights of vodka-based popsicles too, if you haven't already
gotten your fill of those
.)
Technically, you're only supposed to be enjoying these shakes if you're a hotel guest, or visiting a friend who is—so if you don't feel like checking in for a couple of milkshakes, well...
You didn't get to where you are without making friends easily.