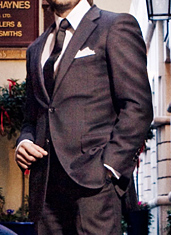 New Year's resolution #17: Become the British prime minister.
February compromised resolution #17: Dress like the British prime minister.
Start here:
Cad & the Dandy
, a traditional English tailoring house from Savile Row that's willing to make transatlantic house calls, accepting appointments now.
So you landed the lead role in Guy Ritchie's next movie. Congratulations. Of course, now that you're playing a London kingpin with a penchant for Harris tweed, you'll need to dress like it. Thankfully, we know some guys (specifically one cad and one dandy) who can help. Also, they do deliveries.
See, once a month, these guys leave their Savile Row shop and fly their British-y swatches across the pond to New York. Rugged twills. Nailhead stripes. The kinds of fabrics for the kinds of suits a member of MI6 might wear. You'll give them a ring. Set up a meet (likely at a neighborhood pub). And they'll size you up over a couple of pints.
Once you've settled on a new custom suit (perhaps something in an oatmeal herringbone check), it'll be all about the options. Machine-stitched or hand-stitched in England. Matching pocket squares or spare pair of trousers. They'll even sew you a jacket liner from an image of your choosing.
You always knew you had a face for smoking jackets.