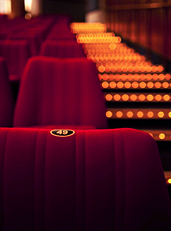 The movie date.
The eternal plan B.
You never know when you'll need to dial up an evening of passionate hand-holding, minimal talking and liquid butter.
So just in case, here's a ticket to every movie for 2012.
Introducing
MoviePass
, a cinematic subscription service (by the month, quarter or year) that's about to do for big-screen flicks what all-you-can-eat buffets did for prime rib, in private beta now.
If you've considered going with "start more dates before 1am" and "quadruple Junior Mints intake" as resolutions for next year, this is your lucky day. And one hell of a coincidence.
What you've got here is essentially Netflix for the silver screen. A flat rate E-ZPass that'll let you see one movie a day, every day, for the rest of your life. Or, you know, the rest of your Sundays when you've got nothing to do and two and a half hours to spare.
Okay, so it's not the standing reservation at Rao's that you asked Santa for, but consider the MoviePass membership benefits. Namely, access to advance private screenings, industry events (we're checking to see if that includes winter break at Lake Como) and exclusive set visits.
Preferably something being shot on location in Sydney.