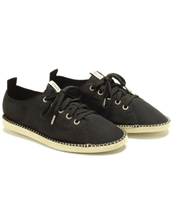 Picture it: you. On a beach.
It might not be today. It might not be tomorrow. But soon.
Someplace with a rum-based economy. Where sarongs are part of the military uniform.
Someplace shoe-optional.
About that...
Introducing the
Montrose Beach Shoe by Onia
, a hybrid between a flip-flop, a shoe and your favorite board shorts, available now for moonlit walks on the beach.
You may already have done some backstroking in a pair of these guys'
handsome swim trunks
. These are just like those, only you'll strap them to your feet. They're sort of an espadrille grafted to the sole of a sandal. And the best thing: the upper part's made from the same material the swimsuits are. (You'd never think of taking a dip without the proper footwear.)
So here's how this will play out: you're going to drop your inhibitions (you're familiar with this process) and walk right into that surf. Do it in slow motion if you like. Raise your arms out to your sides and your face to the sun. Wear an open white linen shirt. Be the human embodiment of the "Wicked Game" video.
And say hi to Helena for us.