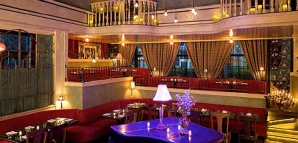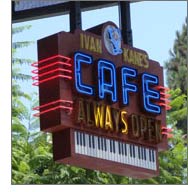 They say pianos are the new burlesque.
Well, maybe they don't—but when the man behind Melrose's tassel-friendly Forty Deuce (R.I.P.) opens a surreal new restaurant and piano bar, you're there. 
Ivan Kane's Cafe Wa s
(that's not a typo—more on the name later) finally opens Saturday.
As soon as you step inside, you might feel like you've already had a few of their drinks served in flasks—but not to worry, you really are seeing a giant staircase that doesn't lead anywhere, hidden lounges, a candle-covered balcony and a 1924 baby grand on a revolving podium. Think old-style speakeasy... if speakeasies had large patios visible from major intersections, closed at 2am and served brunch on the weekends.
Once you know your vision isn't compromised, focus upon your
Moules Frites
or the
Bistro Burger
(topped with prosciutto, brie and a fried egg) while surprise guests show up behind that piano. (Probably not in pasties.)
And as for the place's strange name with the extra space—close your eyes and picture the neon Schwab's sign atop the building, still advertising the famed spot that used to be here, then visualize the first three letters and the
b
all going dark. So you're now only seeing the
w
, the
a
and the
s
still lit—a nod to history, in neon.
Assuming you haven't hit the flask too hard.