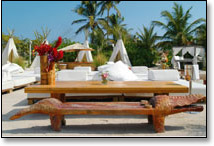 Whether you never summer south of Southampton or think the Garden State Parkway is the thruway to paradise, the Shore has a culture of its own. Big hair, loud music, cheap drinks and skee ball—the perennial anti-Hamptons...at least until now.
Tonight
Nikki Beach Club
, the Miami hotspot frequented by the likes of Diddy and company, opens in Atlantic City's Resorts Hotel.
Like its Miami counterpart, Nikki AC will be a VIP/members-only beach club sprawling to the water, complete with raised beds, teepees, private cabanas and hammocks. It is part of a new multi-tiered complex including Penrod's Elbo Room bar and a 50,000 square foot concert venue (the summer concert schedule kicks off this weekend with, um, Skid Row).
Is Jersey ready for Nikki Beach? Or better yet, is Nikki Beach ready for Jersey? Miami's white cabanas—filled with pilates-toned women sipping mojitos next to turquoise waters—might turn into AC tents of Gina, Lisa and Tina Marie screaming
I Will Survive
through rum and cokes beside the grey Atlantic.
Who knows, but for a potential culture clash this big, grab a front row seat and a strong drink. You just may end up on Page Six...or njguido.com.